* Radio China Magazine team talked to Mr. Phil Kidner at CCW2019 in Kuala Lumpur, Malaysia.
What do you think of CCW 2019?
CCW 2019 was a very interesting show, targeted primarily at the Asian region, I was very pleased to see visitors from many other parts of the world. It is important that the CCW continues to visit different regions.
How TETRA should converge with LTE to make PMR better?
TETRA continues to be the safest, most secure wide area digital network for all professional users. No other technology currently offers the same level of functionality. It provides voice and data communications. Whilst its data rates exceed other PMR technologies, there is a growing need for broadband data which will be best provided by LTE. This technology continues to be developed to make it more suitable for the professional users. I believe that in the immediate future TETRA and LTE will work together to provide these users with their best communications.
What's your opinion on Chinese PMR market?
Some users in China and elsewhere choose other technologies. They believe that these deliver the services they need at the price they wish to pay. This is clearly a choice for individual users but in doing so they are compromising on readily available and proven TETRA functionality.
What opportunities do you see that 5G will bring to us (PMR industry) ?
LTE and eventually 5G will play a significant role in the future of communications for professional users. PMR will continue to be the proven and reliable technology as part of these communications for several years to come.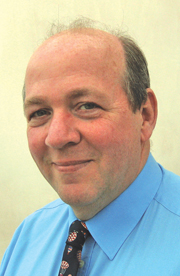 * Mr. Phil Kidner retired as the CEO of the TETRA & Critical Communications Association (TCCA) in 2017 after 11 years of leading the industry association.